Recently, I had the opportunity to converse with Dilbagh Gill, Team Principal & CEO – Mahindra Racing, Formula E Team.
He has managed the team since its initiation and last season, he guided them to their breakthrough win in Berlin and a remarkable 3rd Place in the FIA Formula E Constructor's World Championship.
Our conversation began with us talking about the #drivenbydesign campaign that Team Mahindra launched a few years ago. This campaign allows fans to design various team equipment such as t-shirts and car liveries for the team and I asked him how was it important for the team from a commercial standpoint.
Dilbagh said that it helped the team to get in touch with its fans and give them more access to the sport than any of other teams. He continued by saying that activities like these make the team more popular with the fans, and as a result, they support the team and motivate the drivers, effectively leading to better performances and results.
Then, our attention switched to last season and how Mahindra racing achieved what had eluded the team in the past two seasons.
Dilbagh explained that the car they built was not so kind on tyres and that they struggled with grip for the entire race. Before the race at Long Beach in Season 2, they analyzed the data of the previous races and worked towards improving the car; in the very next race, the team recorded a double points finish, with Nick Heidfeld and Bruno Senna finishing fourth and fifth respectively.
From then on, they focused more on analyzing critical data and improving the car based on this analysis. This worked out brilliantly for the team as they achieved ten podium finishes and one race win en route to finishing third in the Constructors' World Championship last season.
Next, I asked him how things came together for that historic first win at Berlin and what exactly went right that weekend.
He said that they found out that their car was harder on tyres than most teams, and so decided to reduce a lot of weight from next season's car, making it 4 kgs underweight from 18 kgs overweight.
That helped the M3 Electro to become one of the most gentle cars on its tyres and thus in Berlin, where the surface is very abrasive, they were able to triumph as others struggled for grip while the two Mahindra cars didn't.
The team hasn't stopped its quest for making their car lighter than ever; for Season 4, they are going to use a special kind of paint which will help make their car 3 kgs lighter than last year's car.
Genius.

On 10 June, 2017 Mahindra Racing got its maiden victory at the Berlin ePrix. The Indian National Anthem was played for the first time in Formula E at the Podium Ceremony.
I then asked him how his role has changed since his first race in charge of the team and what has changed within the team.
Dilbagh simply said that he has more sleepless nights now than he had back when he started working as the Team Principal. He continued by saying that after the win in Berlin, the team has become a lot happier and motivated.
The group was stressed because of the higher expectations set on them, but Dilbagh says that they have used the stress to motivate themselves to do better and that Team Mahindra can cope well with pressure; everyone knows that they can be winners and they are working very hard to achieve their goals.
Then, I asked him how the arrival of big manufacturers such as Mercedes, BMW and Porsche would affect Mahindra and their operations.
Dilbagh: It would slightly worry them as those teams have a lot of money to invest into the sport, unlike Mahindra, and consequently, they could work a lot on developing their car. This clearly meant that they would be a potential threat but he also pointed out a crucial factor; unlike those teams, Mahindra will already have quite a lot of experience and knowledge about the sport, which could be absolutely key in the future.
He added by saying that although Mahindra will have a few more rivals on the track, they will be very well prepared to fight them, representing the confidence of the team he manages.
Our attention then switched to the Goodwood Festival of Speed and I asked Dilbagh how the idea to run the M3 Electro there came up and the story behind it was pretty interesting.
Dilbagh told me that when they heard about Jaguar displaying their Formula E car at Goodwood, Team Mahindra thought of running their car in the hill-climb competition. That was only a few days before the event and the spots were already full. Luckily, Nick Heidfeld is good friends with Lord March, the man behind the Goodwood Festival Of Speed, and so, Mahindra was able to secure a place there.
Since all of this happened at the very last minute, they could not find a single hotel in town and as a result, they had to sleep in tents. Fortunately though, the idea of the team, which was to promote the team and Formula E as a whole, worked out very well and the M3 Electro turned a lots of heads as it blitzed through the hill-climb course in under 50 seconds! All in all, running the car at Goodwood turned out to be a success for the team.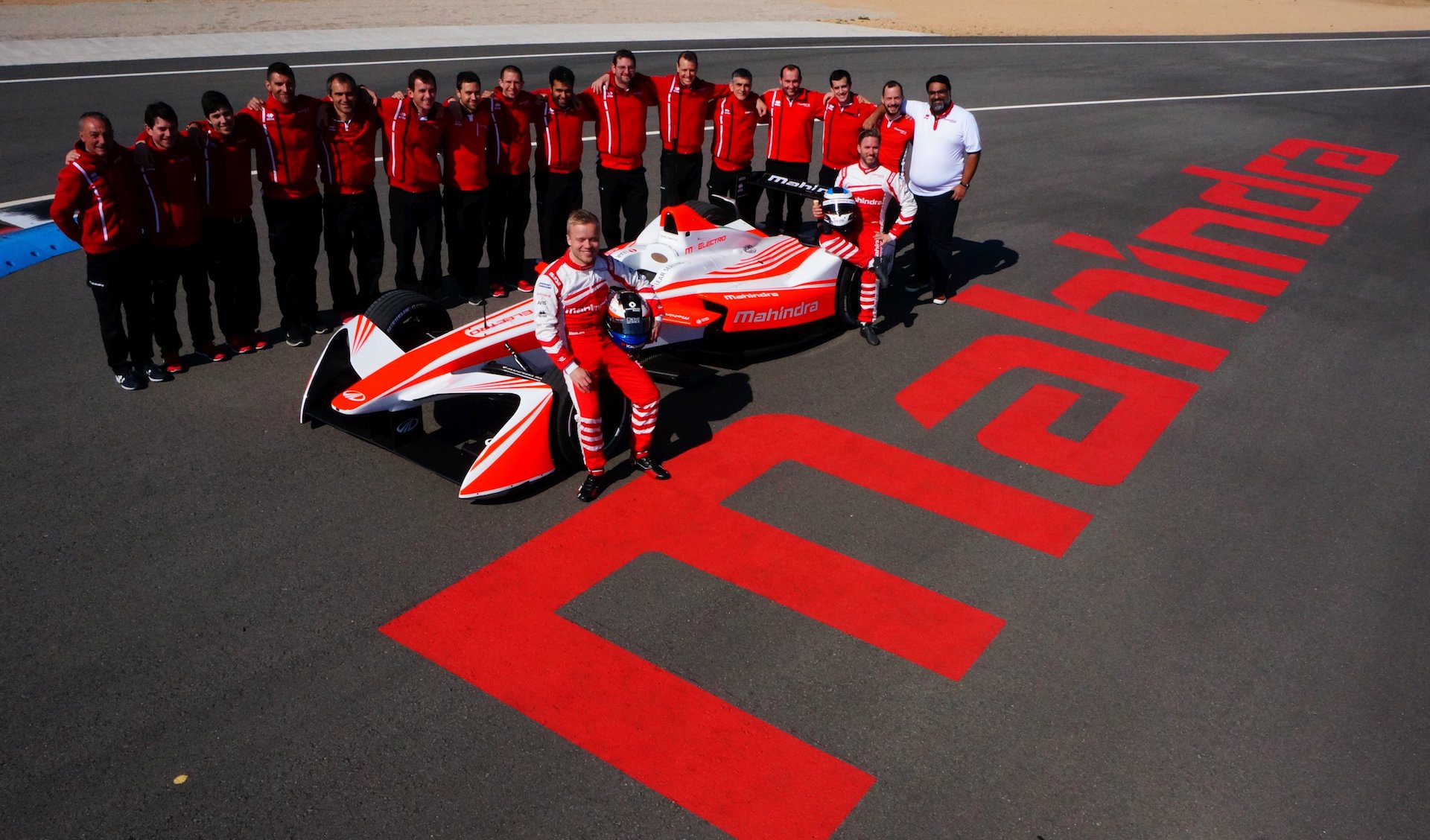 I went on to ask him about the new car for the upcoming season and how different would it be to Season 3's car.
He told me that it will be a revision of Season 3's car. A lot of things will be different to the old version but it won't be a complete change. For Season 5, the regulations will call a big change and so, they will be building a completely new car with almost no similarities with the old cars.
A step into the unknown beckons for all the Formula E teams at the start of Season 5.
Next, I asked him about Arjun Maini and Jehan Daruvala, India's best hopes for a Formula One drive in the near future, and how Mahindra could be a breeding ground for young Indian drivers.
Dilbagh told me that they were currently incredibly happy with their driver pairing, with Heidfeld's consistency and Rosenqvist's outright talent working extremely well for the team, but if there were a vacancy at Mahindra and either Jehan or Arjun were willing to race in Formula E, the team would definitely consider giving them a chance. For now though, Team Mahindra is staying with Nick Heidfeld and Felix Rosenqvist.
Finally, we had a chat about the upcoming Formula E season and the objectives of the team for the following year.
Dilbagh said that the goal for next season is to win the Constructors' World Championship. He didn't mind if they won the championship by taking only a couple of wins as long as they won it. He also said that the team and the drivers are more determined than ever to work hard so they can be called 'World Champions' at the start of Season 5.
And indeed, the way Mahindra has burst on to the winner's circle of Formula E does suggest that they can be serious contenders for the World Championship.

None of us can see the future but we can surely see Mahindra fighting it out with Audi, Renault and DS Virgin for the top spot next season. With the leadership of Dilbagh Gill, the relentless efforts of the engineers working behind the scenes and the sheer talent of their two drivers, I strongly feel that Season 4 can very well be remembered as the season of Mahindra Racing.
External Links:
http://www.mahindraracing.com/formulae
https://www.facebook.com/MahindraRacing
http://www.fiaformulae.com
---
---
You might also like
---